Our Intuitive yoga mat. One mat like no other, but why?
The Intuitive yoga mat is not only anti-slippery and doubled-sided but also helps the environment, all at the same time!
As certified yoga teachers, we wanted to create the ideal yoga mat for us and our classes, anti-slippery, comfortable, eco-friendly and the best quality.
Surprisingly, it is very challenging to find THE ideal mat on the market. Either, way too expensive, slippery, or the quality is mediocre at best. So we thought, why not create our own yoga mat! No sooner said than it was finished.
After carefully testing various yoga mats across the globe, we meticulously compared texture, materials, durability and price. The Intuitive yoga mat was, by far, our number ONE choice. In fact, we found an even better mat that additionally is made of:
non-toxic products: 100% green, 100% biodegradable and 100% PVC free
Because we care about our planet and the products we use, the Intuitive yoga mat provides an ecological alternative to the conventional yoga mat. It contains no Polyvinyl Chloride (PVC), instead is made of thermoplastic elastomer (TPE), a biodegradable and non-toxic substance.
There has been studies showing that PVC is suspected to contribute to cause acid rain (PVC in contact with heat releases harmful toxins, (organic compound volatile) and the rejection of dioxins (see study Greenpeace showing the devastating effects of discharges into the atmosphere as a result of the combustion of PVC)
The alternative to PVC mats? You're right, The Intuitive Yoga Mat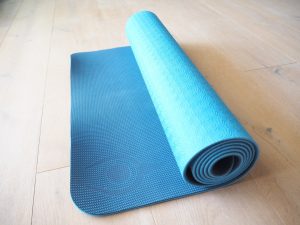 Dimensions: 183cm x 61cm, 5 mm thick, double-sided
183 cm (72″) long and 61 cm (24″) wide, longer dimensions to give an ideal space for any yogis. Its 5 mm thickness serve as an excellent support for the knees and the body weight.
We wanted also a mat easy to carry everywhere. During our YTT or Yoga teacher training, there were many yogis who were carrying extremely heavy mats, so it was obvious to us to create a flexible and light mat you can carry everywhere :).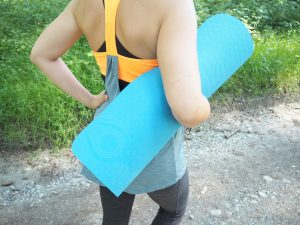 Anti-slippery, best mat for sweaty hands and feet
One of our main conditions when creating our mat is that it must be ANTI-SLIPPERY! Have you ever been a great yoga class, where you're sweating the worries out, and your awesome teacher tells you to do a downward facing dog and all you can see is our hands slide toward the front of the mat, and your posture is compromised completely, what a waste of time… It's not only uncomfortable but it also prevents us from progression in our practice.
Our mat is protected from mold due to its closed cell construction. So it's a non-slippery, great for those of us with sweaty hands, bringing stability and support for any practice. What more do you want? 😉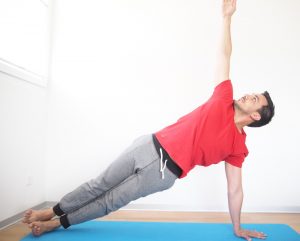 Designed for people who are looking for the best quality products at affordable prices
Before our trip, we bought a mat at a reputable brand store in Lausanne, which we will not mentioned the name here. Unfortunately, after ONLY one year of practice, the mat started to peel and lose its color, super slippery and just… Blah blah blah. So we wanted not only an eco-friendly, but also a sturdy, mat in every sense of the word! We wanted to ensure that our mat is biodegradable and durable to follow you where you want for many years to come without falling apart! In addition, you can use it on BOTH sides, it gets even better! 🙂
Our main interest is YOU!
It is true that creating a product can be interesting, exciting, and challenging, but we did it especially with you in mind in order for YOU to practice with ease and confidence.
We also created the perfect accessories to our mats, our Chakra yoga bags and our Eternity wood yoga block, always keeping the same perspective and dynamics behind all of our products: ethical, durable and comfortable. The history of our yoga bags will be in the next article!
Do not hesitate to contact us for questions or any further information you may need and don't forget to visit our website at myogashop.ch to access all of our Myoga products.
We always your feedback, specially our students and followers, so do not hesitate to leave us a message on Facebook,Instagram or e-mail us at shop@myogastudio.ch, we will be happy to hear from you!
Namaste!